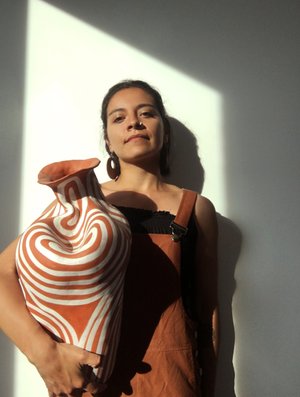 I found in ceramics a language that allows me to explore form through my hands in a way that no other medium could. Feeling el barro engages me in an intimate moment where nature is allowing me to transform it. Making ceramics is a relationship with la tierra that goes back and forth.
My body of work is based on the stories of where I come from and who I am as a woman and as an immigrant. My experience with ceramics began in Mexico extracting clay directly from nature, from a little hill outside a small town where the artisans made el barro using their feet. Keeping these memories has made the essence of the raw materials important in my work.
2022 Remnants, Lalani Jennings and Birch Contemporary. Toronto
2022 Panamerican Colours, Gallery 1313. Toronto
2022 Constellations 1, Lalani Jennings. Guelph
2021 Corpus Terra, Bayside Gallery. Toronto
2021 Regeneration, Bayside Gallery. Toronto
2020 Harvesting Bones, Artscape Wychwood Barns. Toronto
2020 Take up Arts, International Women's Day, Casa Maiz. Toronto
2020 100 Vases, The Shop, Toronto
2019 Sin Fronteras: Monarch Butterfluy Project, Gardiner Museum, Toronto
2019 Take up the Arts, Casa maiz, Toronto
2019 Colores de Latinoamerica, TAP, London
2018 BAM2018, Artscape Youngplace, Toronto
2018 Square Foot Project, Art Square Gallery, Toronto
2018 Queen West Art Crawl, Toronto
Mariana Bolaños is a Mexican artist based in Toronto. She has created a diverse body of work in painting and ceramics. Focusing on art with a social purpose, she works as a facilitator in community programs engaging people with disabilities, immigrants, women, and children. Mariana has collaborated with the Neighbourhood Arts Network, Workaman Arts and Muse Arts. She was also recipient of the RBC Arts Access Fund and received grants from the Toronto Arts Council and the Ontario Arts Council with Pinceles Latinos Collective.
Mariana exhibits her work regularly and has been part of several shows in Canada, Cuba and Mexico.