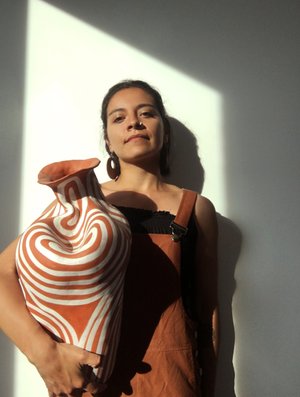 2023 NCECA Juried Student Exhibition. DAAP Galleries. Cincinnati
2022 Remnants, Lalani Jennings and Birch Contemporary. Toronto
2022 Panamerican Colours, Gallery 1313. Toronto
2022 Constellations 1, Lalani Jennings. Guelph
2021 Corpus Terra, Bayside Gallery. Toronto
2021 Regeneration, Bayside Gallery. Toronto
2020 Harvesting Bones, Artscape Wychwood Barns. Toronto
2020 100 Vases, The Shop, Toronto
2019 Sin Fronteras: Monarch Butterfluy Project, Gardiner Museum, Toronto
Mariana Bolaños is a Mexican artist based in Toronto. She has created a diverse body of work in painting and ceramics. Focusing on art with a social purpose, she works as a facilitator in community programs with children, women and newcomers around Toronto and the GTA. Mariana has collaborated with the Neighbourhood Arts Network, North York Arts and Muse Arts.
She was also recipient of the RBC Arts Access Fund and received grants from the Toronto Arts Council and the Ontario Arts Council with Pinceles Latinos Collective. She also, exhibits her work regularly and has been part of several shows in Canada, Cuba and Mexico.
Mariana studied visual arts in Mexico and obtained a Diploma in Fine Arts when she moved to Canada. She is currently in her fourth year of the Ceramics program at Sheridan College.